Regular price
$6.80 SGD
Sale price
$5.80 SGD
Unit price
per
Sale
Sold out
10ml Aroma Essential Oil | Diffuser | Humidifier | Nebuliser | Essential Oil Diffuser | Aroma Diffuser | Candle burner
Go on a scent journey with our collection of essential oils, raising your quality of life with aromatherapy.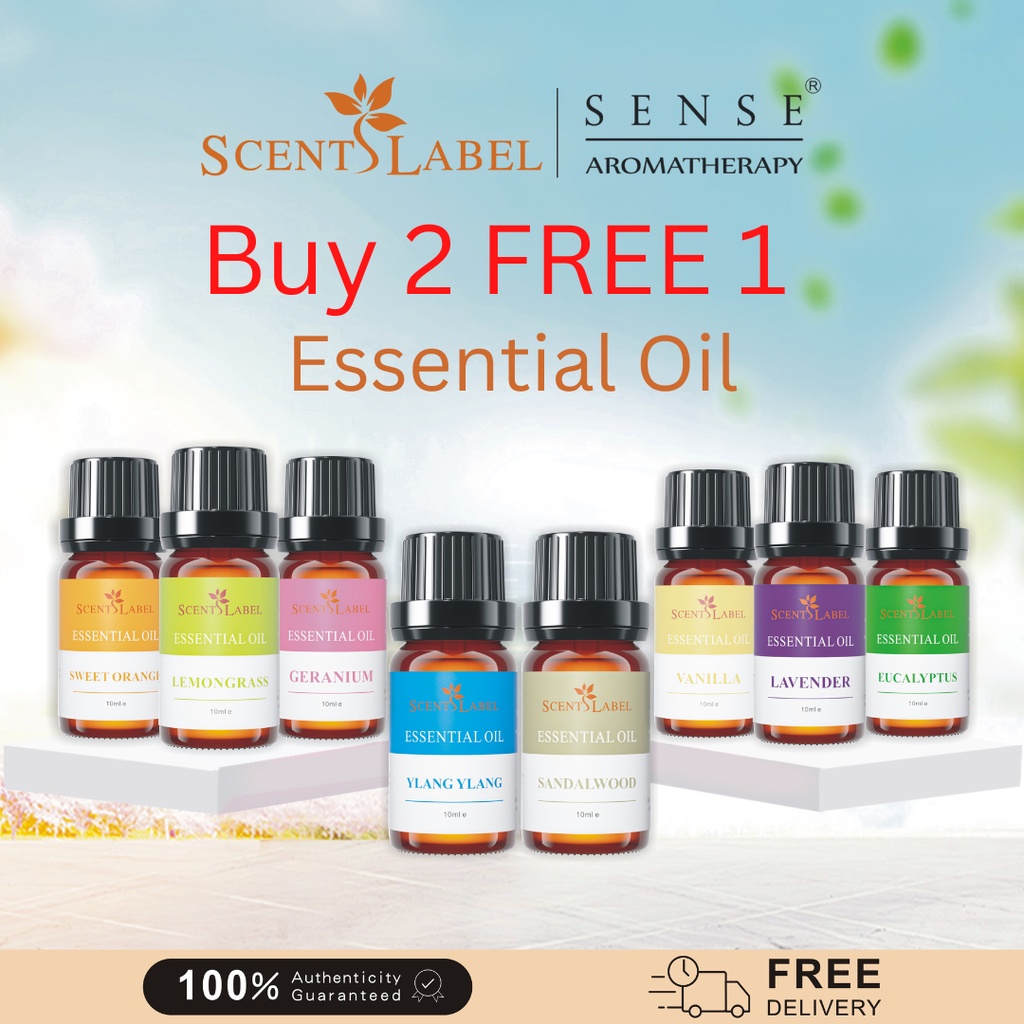 Buy 2 bottles get 1 Bottle FREE  [ key promotion code @ checkout:  buy2free1  ]
Offer: $5.80 (Original price $6.80)

Directions: 
- Use in Aroma Diffuser, Nebuliser, Candle Burner, car scenter and other related aromatic products.

Cautions:
- Do not ingest
-External use only
-Avoid contact with eyes
-Dilute with carrier oil before applying on skin 
-Stop to use if irritation occurs

Package include:
10ml Essential Oil of variation Scent in bottle

List of Essential Oil 10ml:
1, Lavender 
Relaxation, calm mood & relief stress 

2, Eucalyptus 
Uplifting, purifying & eases breathing 

3,  Lemongrass 
Elevating, cleansing & bugs off 

4, Geranium 
Calming, relaxing & destressing  

5, Sweet Orange 
Energising, uplifting & freshening

6, Citronella 
Refreshing & keeps insects and mosquitoes away

7, Chamomile 
Soothing, calming & relaxing

8, Peppermint 
Cooling, relieving & breathe better 

9,Rosemary 
Energising minty scent, reduces nervous tension

10, Sandalwood 
Warming, purifying & destressing 

11, Bergamot 
Uplifting, cleansing & calming

12, Cinnamon 
Warm, relaxing and comforting aroma 

13, Lemon 
Cleaning, refreshing & uplifting 

14, Tea Tree 
Purifying, cleansing & soothing

15, Rose 
Calming, comforting & highly romantic

16, Vanilla 
Evocative creamy aroma, romantic & depression relief 

17,  Pine 
Uplifting , refreshing & energising 

18, Ginger 
Revitalising, soothing and calming

19,Ylang Ylang 
Relaxing, calming & positive atmosphere

20, Clove 
Woody aroma, stimulating and energising


 
Share
Ingredients

Water Based Essential Oil
How to use

[ Do not connect the plug or turn on the machine when adding water ]

Step 1: Removed the Top Cover and fill up the container with water level till in between the 'MAX' & 'MIN' line making on the container. ( Water Level should not more than 'Max' Level )

Step 2: Add 6-10 Squeeze ( 5 ml - 10 ml ) or more as desired of the essential oil into the water. ( Do Not Use drop as measure )

Step 3: Put back the Top Cover and slightly press down with a 'click sound'.
Shipping

Free Delivery with purchase of Min $30.
View full details