Regular price
$85.00 SGD
Sale price
$85.00 SGD
Unit price
per
Sale
Sold out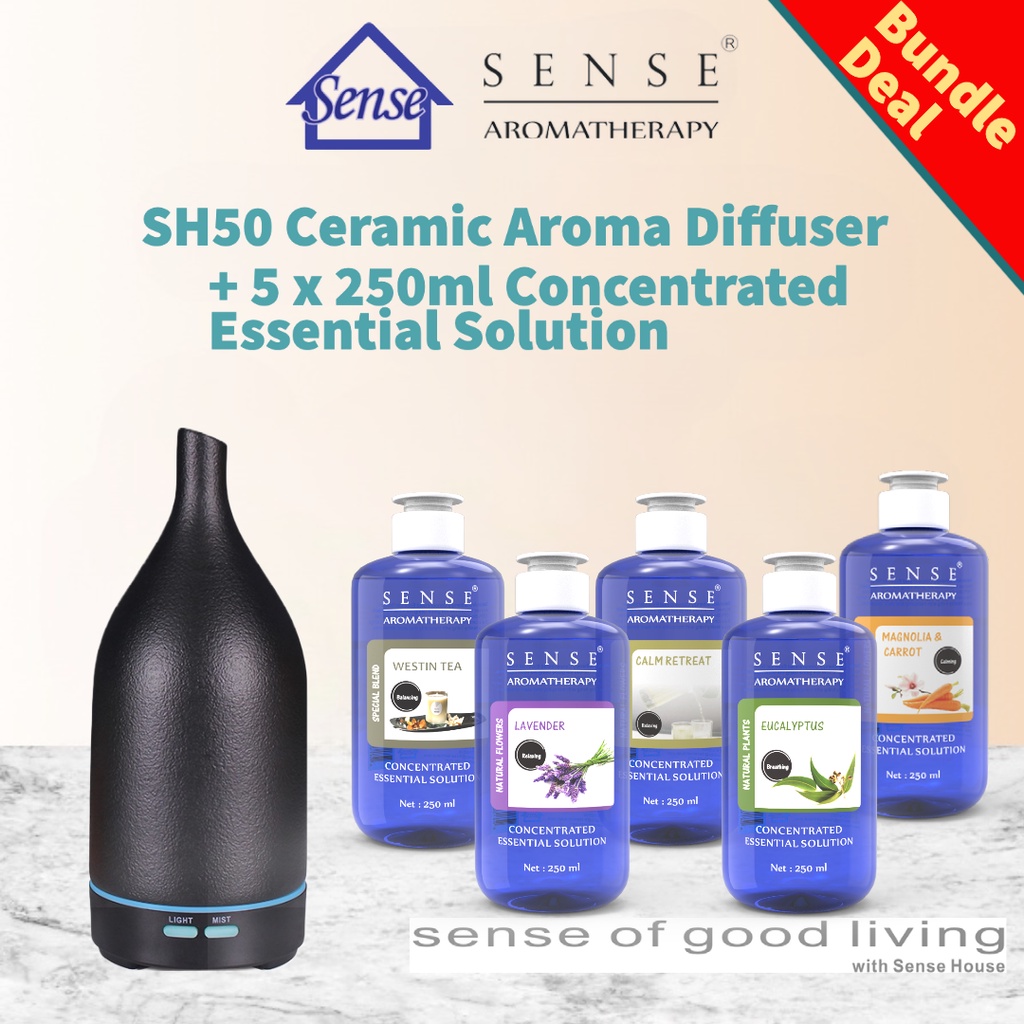 NOTE ** REMEMBER TO WRITE YOUR SCENTS AT THE CHECKOUT BOX OR MESSAGE US ** 

## Random scents will be picked if there are no remarks and messages stated. ##

BUNDLE DEAL of SH50 Ceramic Aroma Diffuser @ $72 (Machine ONLY)
With 1 x 125ml $90
With 2 x 125ml $108

With  1 x 250ml $105
With 2 x 250ml $135
With 3 x 250ml $160
With 5 x 250ml $210

====================================================================================

List of Scents: 

( Kindly stated them in the message box or message us )Eg: 1,6,8 or Lavender, Pink Violet, Lemongrass) 

1) Lavender
2) Eucalyptus
3) Green Tea
4) Grapefruit
5) Citronella
6) Pink Violet
7) Westin Tea
8) Lemongrass
9) Relaxing
10) Anti-Tobacco
11) Breath Easy
12) Morning Dew
13) Green Bamboo
14) Sandalwood
15) Lemon
16) Sakura
17) Peppermint
18) Rose
19) Dewberry
20) Jasmine
21) Clary Sage 
22) Ginger Lime
23) Summer Florals
24) Orange Blossom
25) Jasmine Tea & Freesia
26) Tea Tree & Eucalyptus
27) Calm Retreat 
28) Tropical Dream
29) Magnolia & Carrot 
30) Bergamot & Clove 
31) Summer Kiss ( NEW )
32) Himalayan Blue ( NEW )
33) Grapefruit Cologne ( NEW )

** REMEMBER TO WRITE YOUR SCENTS AT THE CHECKOUT BOX OR MESSAGE US ** 
## Random scents will be picked if there are no remarks and messages stated. ##
Share
Ingredients

Water Based Essential Oil
How to use

[ Do not connect the plug or turn on the machine when adding water ]

Step 1: Removed the Top Cover and fill up the container with water level till in between the 'MAX' & 'MIN' line making on the container. ( Water Level should not more than 'Max' Level )

Step 2: Add 6-10 Squeeze ( 5 ml - 10 ml ) or more as desired of the essential oil into the water. ( Do Not Use drop as measure )

Step 3: Put back the Top Cover and slightly press down with a 'click sound'.
Shipping

Free Delivery with purchase of Min $30.
View full details